Clear+Brilliant Fractional Laser Treatment
Skin resurfacing and rejuvenating with almost no downtime.
About Clear+Brilliant Procedure
Most Popular Clear+Brilliant Treatments
| | | |
| --- | --- | --- |
| Clear+Brilliant face | | 226€ |
| Clear+Brilliant face and neck | Special offer | 259€ (instead of 299€) |
| Clear+Brilliant face (with the course of 3 treatments) | | 199€ |
| Clear+Brilliant face and neck (with the course of 3 treatments) | Special offer | 199€ (instead of 249€) |
Clear+Brilliant laser treatment is almost painless and does not require a long healing period, while its results are long-lasting. This laser has been tested in many studies, proving the procedures are safe and effective for the treatment of the face, neck and décolleté areas.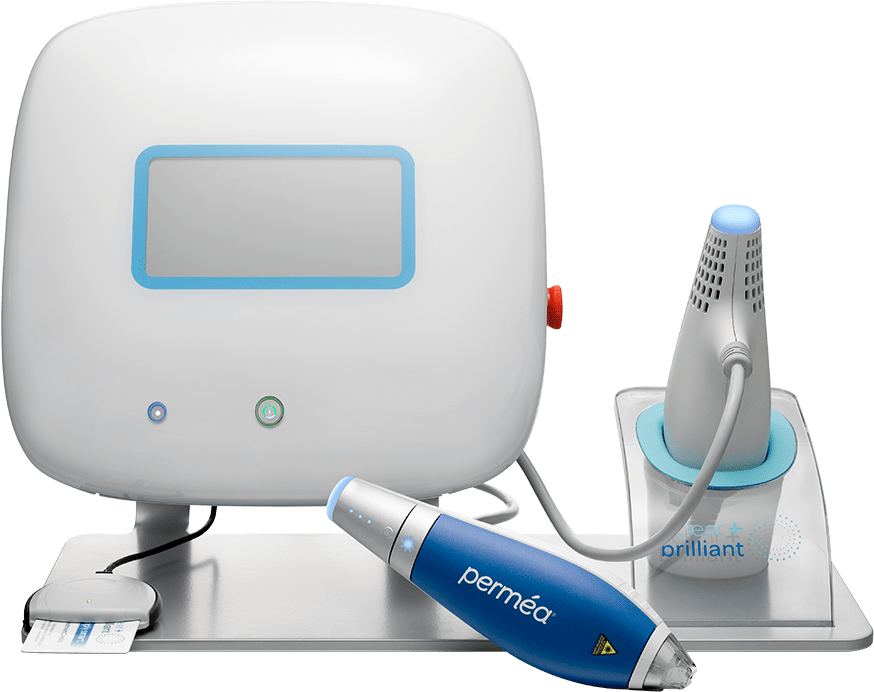 What Else Should You Know About Clear+Brilliant?
What should I expect after the procedure?
admin
2020-06-01T16:37:40+03:00
Patients often notice skin redness and swelling after the procedure, but these symptoms usually disappear after 12 to 24 hours (in some cases, up to a few days), so it is possible to return to your daily activities the next day. After the redness is gone, you should notice the "sandpaper" effect: the skin gets rid of old, damaged cells. At the same time, skin regeneration takes place: new, tidy elastin and collagen fibers appear in deeper layers of the skin, the epidermis regenerates, and in about a week after the procedure, you will enjoy soft, smooth and baby-like skin. The effect will only intensify over time and will be most pronounced after a month (full skin regeneration).
After the procedure, it is necessary to avoid the sun and/or use a protective cream (SPF 50). The skin will also need to be constantly moisturised – especially with the nourishing and regenerating creams for the first few days.
If you suffer from frequent Herpes virus infections the laser procedure might cause exacerbation, so it is worth considering a prophylactic oral course of Acyclovir. Such information should be discussed with the doctor performing the C+B treatment.

Fill out the form and we will confirm your registration within 4 business hours.