Removal of Various Skin Formations
Fast and painless skin formation removal procedures.
| | | |
| --- | --- | --- |
| Consultation of a dermatologist | | 40€ |
| Removal of moles | | from 50€ |
| Removal of warts and condilomas | | from 50€ |
| Removal of papillomas | | from 50€ |
| Doctor's consultation and examination is free of charge if procedure is performed. | | |
The most common benign skin formations are moles, papillomas, warts and condilomas. Before removal, every skin formation must be thoroughly evaluated by a dermatologist.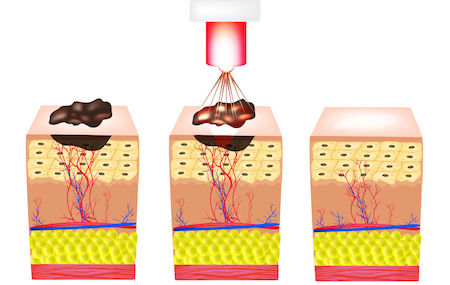 What Else Should You Know?
What regimen should I follow after these procedures?
admin
2020-06-01T17:01:12+03:00
Skin care after these procedures is a very important part of the whole treatment, because it determines the effectiveness of the procedures as well as the possible risk of complications. To make the most of this treatment, we suggest following these guidelines:
Do not wash the treated area for 12-24 hours;
When changing the bandage, clean the wound with an antiseptic and apply the treatment prescribed by the dermatologist;
Do not pick or peel scabs;
For a week after the procedure, it is recommended to avoid baths, swimming pools, saunas and etc;
It is necessary to protect the area from UV rays for 4-8 weeks, so do not actively sunbathe in the solarium or in the sun, if necessary, apply SPF50 protective cream every 2-3 hours.
What to expect after the removal of a skin formation?
admin
2020-06-01T16:59:15+03:00
Local swelling and mild pain, redness as well as slight bleeding are common after the removal of the skin formations. These symptoms usually disappear within a few days. To ensure the effectiveness and safety of the procedure, be sure to follow your doctor's recommendations.

Fill out the form and we will confirm your registration within 4 business hours.